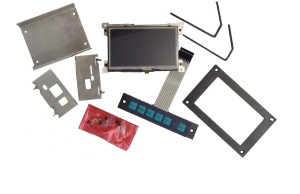 Our production-ready display and touch screen kit for BeagleBone Black or BeagleBone White includes a robust RGB LCD with integrated full-size projected capacitive or resistive touch screens. We have 7″, 5.6″ and 4.3″ sizes. The BeagleBone mounts directly to the back of the platform where expansion capes can be easily added through a second row of header pins. An LED power indicator, reset switch and six-pin keypad connector are also included. And it's fully compatible with the latest Linux / Android OS.
The kit includes the production ready display with touch screen, mounting stand and a push-button keypad. Just add your BeagleBone and any capes you need and you're ready to start developing software. The stand gives you easy access to all of the connectors on the BeagleBone and capes.
The trim kit includes a production-ready back cover that protects the electronics platform while allowing easy access to connectors on the top and bottom of the BeagleBone and capes. Together, the trim bezel and back cover have your product protected both front and back.