Metal over capacitive touch, commonly referred to as "metal over cap," is a technology used to create rugged input devices. Metal over cap is used in environments that cause the materials used in traditional input controls like plastic or polymers to degrade quickly. When conditions would prevent the input device from working well, like in wet or very dirty environments, or when the device might be exposed to direct sun or abuse, metal over cap has a significant advantage over traditional membrane overlays.
Metal over c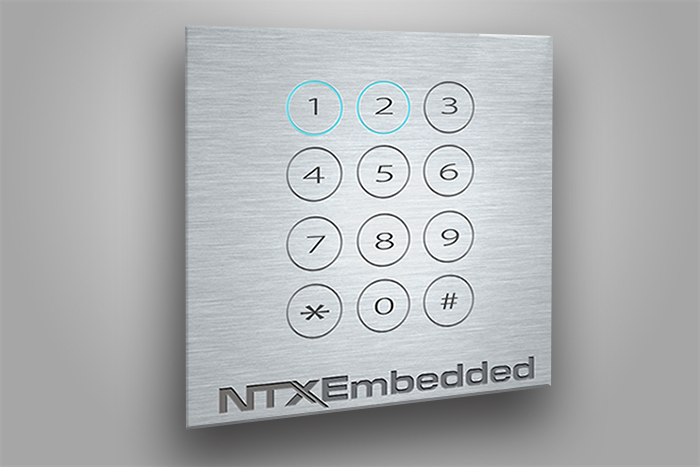 ap uses a metal top layer to protect the electronics under it from the environment. Under the metal layer, the electronics detect an input press on the metal layer using capacitive sensors and the deflection of the metal surface. This means that a metal over cap device will work when wet, when coated with grease or paint, when touched by a gloved hand and even when poked with a wrench.
The metal top layer can be etched with the image of the input buttons to show the user how to use the control. The surface is normally etched with numbers or icons because etching lasts longer than paint or decals and the etching can be done to make the control look like traditional controls. Etched surfaces can have a colored epoxy put into the etching to give the buttons color. The metal surface can have LEDs in it to serve as visual feedback when buttons are pressed and most devices have a speaker or buzzer to give audio feedback as well.
Metal over cap devices are most commonly numeric keypads or systems of on/off buttons but can be used in any kind of input device. Metal over cap can be used to sense gestures as well as button presses.  NTX Embedded can seal a metal over cap input device in a NEMA rated enclosure to create a self-contained highly rugged system. We can design the metal over cap system and the NEMA enclosure to work with your existing device to create a seamless drop in replacement for existing input devices. We can also create a new input device to meet your exact needs. Please contact us and tell us about your project and let us design and manufacture a rugged input device that will work in your specialized environment.