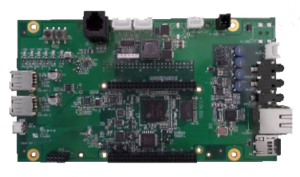 The Tarpon NM-TAR7A production-ready, embedded single board computer is a highly integrated, compact system that targets applications in need of a robust touch interface and mid-size, high-resolution screen with the processing power to drive rich sound and full color graphics. This system supports Android and Linux.
The Tarpon will support various display sizes and touch screens that are the best fit for your application. The integrated stereo sound can play WAV files and allows for software control of the volume as well as microphone input. The system is controlled by a TI ARM Cortex based processor with 256MB DDR2 RAM and on-chip 3D graphics accelerator. An Ethernet port supports wired connectivity. A USB Hub and two USB type-A connectors allow for external devices and memory to be added with ease and for field software updates.
The Tarpon can be used with our various displays and touch capes up to 10.4". For example, our 7" 840×400 display and touch cape model, which supports 16-bit color graphics, includes a projected capacitive multi-touch screen bonded to an impact resistant glass front panel.

This platform uses high reliability components with a wide temperature range and is ready to integrate into any commercial product. Our team of designers and engineers are highly qualified to adapt the Tarpon code for you to drive your device. We can optimize the design to build a top-notch user interface along with the application software as well.
Please contact us for more information about the Tarpon platform, our design capabilities, and our engineering services.